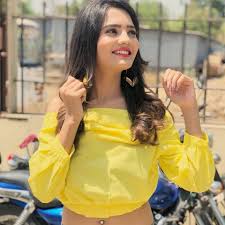 Ashna Kishore is currently seen in And TV's show Happu Ki Ultan Paltan.
The actress is seen playing the role of Katori Singh on the show.
Happu Ki Ultan Paltan is a comedy show which is successfully airing on small screens for almost two years now.
The show also stars Yogesh Tripathi, Kamna Pathak, Himani Shivpuri, Aryan Prajapati, and Sanjay Choudhary, among others in pivotal roles.
Ashna's character Katori is being loved by the viewers and she has received appreciation from the fans for her stellar performance.
In an exclusive interview, Ashna got candid about the show and much more.
On being asked what was her first reaction when she came to know about her character Katori, Ashna said, "I remember when I was auditioning for the character, I was told that the role of Kat, I wasn't aware that the character's name will be Katori Singh. Later, while I was reading the lines, it was written, 'Don't call me Katori'. I got really confused and I asked what is with this Katori? Then I was told that my character name is Katori. I was like 'Oh My God'. The first thought that came to my mind was that everyone is going to tease me. Even today, my family teases me with this name. I was very excited as I got such a unique character name."
Further, when asked about how challenging it was for her, she said, "It has been very challenging for me because I don't speak Hinglish. That too I say it wrong. I had to change my entire language and also take care that I am doing it in the right way. As an actor, I am still trying. I would like to give credit to the writers and we are able to perform."
Well, Ashna is definitely doing total justice to her role as Katori!
Stay tuned for all the latest updates.