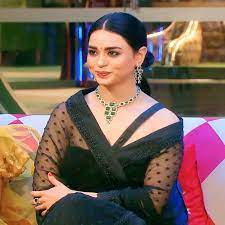 MUMBAI:Soundarya Sharma is a well-known name in the film industry. She made her acting debut with the romantic Ranchi Diaries in 2017, and she even had a special appearance in the movie 'Thank God'.
She has been a part of successful web series like Raktanchal 2, Country Mafia, and Karm Yuddh.
But she rose to fame after her participation as a contestant in Bigg Boss Season 16.
She had grabbed the headlines for her love affair with fellow contestant Gautam Vig, which was a topic of discussion both inside and outside of the show.
The actress was also very close to Archana Gautam, and they shared a great bond of friendship.
Unfortunately, the actress has been evicted from the show and her journey has come to an end.
Tvcine got in touch with Soundarya post her eviction and asked her why she was friends with Shalin even after he spoke badly about her, and who she would meet outside the house.
We have seen you getting emotional at times, with the housemates telling you things about yourself, and in spite of that you have been so strong. Where did the motivation come from?
I guess it was my upbringing, as my mom always told me that when people speak badly about you, three fingers are pointed at them and not at you. When we have a fight or a dog is barking at us, we don't stoop down and start barking or fighting because we know nothing about them. In the same manner, I didn't know Tina, Shalin, and Gautam. I didn't even know that they were actors nor did they know about me. If they have said things then it reflects them. I have played the game in a dignified way.
The Kaanta Laga girl thing was said in a mocking manner which didn't look good on the girl who performed it and on me, for which Salman Khan also lashed out at them. He does it for all the girls in the house. It was embarrassing about Tina as she spoke badly about a girl. How could she?
A clip of Priyanka, Tina, Sreejita, Priyanka, and Shalin went viral where everyone was talking about your dress; someone like Priyanka always says that she doesn't speak badly about girls. What's your take on it?
Priyanka plays the game as per her convenience, and she pretends and wants to come across as the right one, but that's what Bigg Boss said sarcastically to her. Personally I don't have an issue with her, but the things that happened in the house didn't go down well with anybody. If you have done something then own it up. Do whatever you want for the game, but then stand by what you say, which she didn't do.
What do you have to say about Bigg Boss Season 7's winner – Gauhar Khan's support for you?
The contestants are such that they will bring you down but it will reflect them. They kept making fun of my doctor's degree as they couldn't believe that she could do the task, and also because they couldn't take any loophole. I am very thankful to Gauhar and I even texted her.
At the end of your game, you were seen talking to Shalin Bhanot in spite of him speaking badly about you. What made you do that?
In the end, we were left with only eight people and he was going through depression. I am a very forgiving person and Shalin apologised to me, almost fifty times, and especially after Salman Khan made him understand. Now I can't undo the things he has said, and so I gave him the benefit of the doubt. I forgive but don't forget.
Who do you see as the top three contestants?
There is no use in saying this as it doesn't matter what we want to see. It all depends on what they want to show.

Who do you want to meet outside the Bigg Boss house?
I would like to meet Archana, and I would like to meet everyone else as well.
Well, there is no doubt that Soundarya Sharma was one of the strongest contestants on the show and the audience did see her as a finalist of the show, but unfortunately, the housemates voted her out.