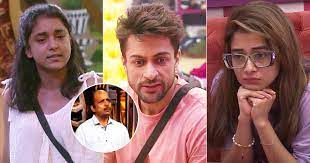 MUMBAI :The Sumbul-Shalin-Tina fight has taken a very bad turn, with Sumbul's father abusing Tina and Shalin on television.
We saw how in the previous 'Shukarvaar Ka Vaar' episode, how Salman Khan tried to explain to Sumbul and Shalin that they should maintain a distance from each other, and shouldn't be talking to each other.
We also saw how Sumbul got a chance to talk to her father, who made her understand the situation, and even abused Shalin and Tina on television, which didn't go down well with the fans and audiences of the show.
Sumbul also told Shalin that she wouldn't apologise to Tina, and that she won't stand by them anymore. From now on she will play her game.
Now in the upcoming episode, Shalin and Tina, along with the rest of the contestants will get to see what Sumbul's father had spoken to her.
Shalin will lose his cool and kick the table. He questions Sumbul as to why she is even talking to them when her father is talking ill about them.
Tina also loses her cool and says how dare anyone character assassinate her.
On the other hand, Sumbul will lose her state of mind as she knows that somewhere, her friendship with Shalin and Tina is over, and she gets worked up and faints.
As we had reported earlier, during the 'Shukarvaar Ka Vaar' episode, the family or friends of Sumbul, Shalin, and Tina will be coming on the show and will be interacting with Salman regarding the whole fiasco.
It will be interesting to see how their friendship will move ahead from here.
What do you have to say about the trio's friendship?
Do let us know in the comments below.