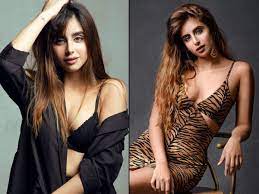 Bigg Boss 15 will go on air from 2 October, and fans are super excited for the new season to begin.
Salman will be hosting the show and is expected to start the shoot on Friday. It will be telecast on Saturday.
Another name has been added to the confirmed contestants of the show, that is, Ace of Space contestant Miesha Iyer.
She was a contestant on season one along with Pratik Sehajpal and a lot of sparks flew between them.
The chemistry between the duo was so good on Ace of Space that the audiences thought that there is something brewing between them.
There was a time when Miesha and Pratik had come live on Instagram where the model revealed that she was getting many DMs asking if she and Pratik are dating each other and when they will be getting married.
Post the show, there were many rumors doing the rounds that Pratik and Miesha were a couple though there wasn't any confirmation on the same.
Seems like love could be in the air in the BB house.
Well, this year, the theme of the show is jungle, where the contestants will have to stay in a forest and fight for their basic needs and comfort.
This is going to be a big challenge for the contestants.
After passing all the difficulties in the jungle, the contestants will enter the main Bigg Boss house and will the game would continue from there.
It would be interesting to see Pratik and Miesha in the show.
What do you think of them as contestants of the show?
Do let us know in the comments below.
For more news and updates from the world of television and Bollywood, stay tuned.