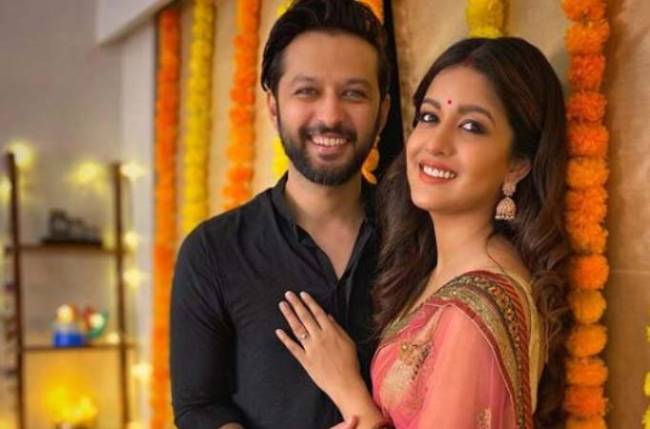 Ishita Dutta and Vatsal Sheth are one of the adorable couples of Indian television. The couple recently shared a few beautiful pictures from their Karwa Chauth celebrations.
In the images, the actress is seen dressed in a sheer pink saree and they looked made for each other.
However, it was the comments section that caught our attention. Few fans can be seen dropping in questions, asking whether Ishita is pregnant or not.
On zooming into Ishita's picture, a baby bump is actually visible, which is being hidden behind the actress' saree-pallu as she poses.
While the couple has not confirmed anything yet, fans are quite curious to know if the couple is expecting their first baby.
Vatsal Sheth and Ishita Dutta tied the knot on November 28, 2017, in a very private and intimate ceremony. The couple fell in love while working with each other on Rishton Ka Saudagar – Baazigar. Interestingly, Vatsal and Ishita had signed a no-dating clause while working on the show. The TV show Rishton Ka Saudagar – Baazigar ended but the couple developed feelings for each other.
Vatsal and Ishita hardly dated and decided to get married soon after seeing each other within a few months.
Sources reveal that Vatsal had opened up about why they decided to have a private wedding, "I was very clear that I want a small and private wedding. There were just 30-40 people at our wedding. I still feel very bad because I didn't even invite my own cousins. I called them and told them the reason. We wanted to keep it very very small. Our wedding got over in an hour.".
The husband-wife kept their fans entertained throughout the lockdown by creating funny videos. They also worked on their personal hobbies like painting, playing flutes.
Ishita and Vatsal also shot a short film amid lockdown by staying indoors, which got positive feedback.