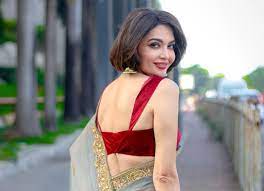 Parull Chaudhry has been an eminent name in the industry, best known for her negative roles. She essays them so effortlessly that it is difficult to recognize her in any other shades of character.
In the show Bhagyalakshmi, Parull will reunite with her onscreen father in Kasauti Zindagi Kay 2 Uday Titekar. From daddy and daughter in KZK2 to siblings in Bhagyalakshmi, the two had a reunion on the sets.
We asked Parull about the reunion, she shared that "It was indeed a great feeling to work with him again. Previously, he was my father and now he is playing my brother. He is one actor I really adore working with."
Well, talking about essaying different shades of characters, we asked Parull which one has been her favourite, she shared, "Hardcore negative has always been my first pick. I really enjoy playing negative characters. I feel there is no graph to playing a positive role, when it comes to the negative roles there is much to play around. It is quite a challenge to play a character which is completely opposite to the personality."
"I am someone who wouldn't even harm an ant in reality and on screen I play these hardcore negative roles; that hate my character receives is indeed an achievement," she added.
Talking about the negative roles, Parull shared an anecdote from KZK2, "Just after Divya Drishti when I joined the cast of Kasauti, I played Parth's sister and it was a positive character at the beginning, for the first 10-15 days I was so lost and uncomfortable as I was not used to playing so sweet on screen. I was missing the planning plotting vibes that I have with the negative characters."
Oh boy, she is already set to sweep hearts again with Bhagyalakshmi.
For more exciting updates, stay tuned.