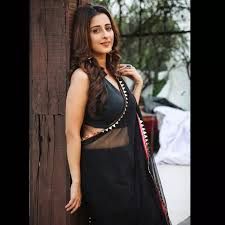 The third season of Kuch Rang Pyaar Ke Aise Bhi is working wonders on the small screens.
Shaheer Sheikh and Erica Fernandes are back as Dev and Sonakshi leaving the fans elated.
The makers have roped in the same actors who played pivotal roles in the previous two seasons.
Chestha Bhagat who garnered huge praises for her character Neha Dixit in the show is once again back.
The actress recently made her entry into the show and fans were thrilled to see her.
Chestha's character Neha is receiving good reactions from the viewers.
We got in touch with Chestha who spoke about returning to KRPKAB 3 and much more.
Entry in the show, viewers' expectations, changes in character
I was extremely excited when I got a call for the show earlier this year. It's not just a show for me. The show is very close to my heart. I had an excitement to chill around and work with the co-stars again. But then it got delayed and now I'm back.
I had so many questions about my character in the initial days. I wanted to know if Neha's character is all about now. Everyone had got a brief. Earlier, there was a thin line in my character, there was a grey shade in Neha's character but she also had to show innocence. I had to portray that same thing after five years. I told my director to handle everything on the first day. But eventually, I got a hang of it in no time. It went on smoothly.
I didn't see the previous episodes as there was no need to brush up on my character. I have lived this character. I have personally lived this character as it is personally related. It's not like Neha is like Chestha but there are certain things in Neha's life that are similar to me in real life.
I was expecting some changes in terms of character and looks but it's all same. I have just grown up a little bit in terms of maturity. Rest all is same. Nothing has changed in Neha's character.
Bond with Shaheer and Erica
I know Shaheer for 12 years. I have done Navya and we were quite young. There's no change in my rapport with Shaheer. In fact, we have picked up from where we left. We used to meet after the show's shoot. We had a ritual to meet at Maa (Supriya Pilgaonkar's) birthday at her place every year. Erica and Shaheer also used to accompany us. There isn't a single year since the past five years when we have missed Maa's birthday. We already have that connection. We were never out of touch.
Pursuing fashion designing…
I am pursuing acting as my career presently. I have only studied fashion designing but never pursued it. I had studied this as a backup plan so if acting doesn't work, I can go ahead with this. I have this plan but never pursued it. Maybe in the future, I'll do something with it. If I ever have my own brand, it will be related to fashion and clothing.
I would like to design clothes for Deepika Padukone and Alia Bhatt. I really admire them. And from television, I would like to design clothes for Jennifer Winget.
Chestha has previously done shows like The Buddy Project, Palkon Ki Chaaon Mein, Dil Sambhal Jaa Zara, among others.
Stay tuned for all the latest updates.