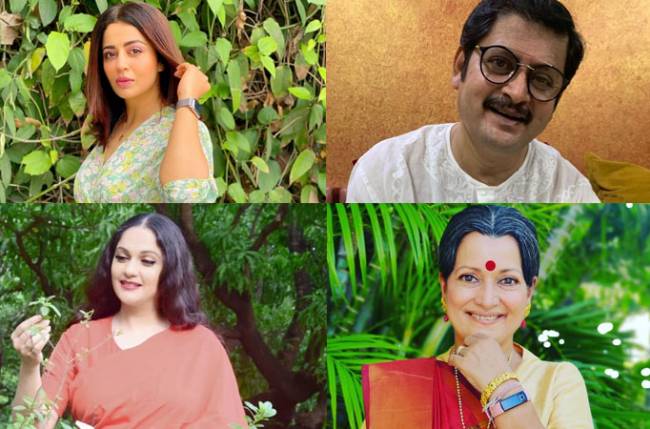 Plastic pollution has now become a universal issue. There is no doubt that plastic has many practical uses. However, our addiction and overdependency on single-use or disposable plastic are leading to severe environmental consequences. Plastic is one of the few materials which does not degrade so easily, and it takes around two decades to decompose one small plastic bag? And, we end up generating a great amount of plastic waste. On International Plastic Bag Free Day, &TV artists Gracy Singh (Santoshi Maa, Santoshi Maa Sunaye Vrat Kathayein), Himani Shivpuri (Katori Amma, Happu Ki Ultan Paltan) and Bhabiji Ghar Par Hai's Rohitashv Gour (Manmohan Tiwari) and Nehha Pendse (Anita Bhabi) talk about simple efforts, and small steps can create a bigger impact in making the world plastic-free.
Gracy Singh, aka Santoshi Maa from &TV's Santoshi Maa Sunaye Vrat Kathayein, shares, "I strongly advocate the concept of 3Rs- Reduce, Reuse and Recycle which will eventually lead to the fourth R, i.e., Riddance. I make sure that I reduce plastic usage at my place and try to reuse and recycle whatever plastic I already have. Not just that, I try to educate my staff about the hazards of plastic too. If we create enough awareness about the harm plastic brings to our environment, more and more people will join the movement against plastic and switch to other alternatives. On this International Plastic bag free day, I would recommend everyone to first start with themselves and then motivate others to adopt various means to avoid the usage of plastic bags." Himani Shivpuri, aka Katori Amma from &TV's Happu Ki Ultan Paltan, shares, "I have been using cloth bags and jute bags for a very long time. They are not just durable but also safe for our planet. I avoid using plastic with thickness below 50 microns. These plastics pollute the environment and are also toxic for animals as they most of the times end up choking on it while finding food in the garbage bins. We use plastic bags for our convenience without thinking about their adverse effects on the flora and fauna surrounding us. Days like International Plastic Bag Free Day remind us of the damage done and encourage us to stay away from plastic bags and instead look for more eco-friendly alternates. I am doing my bit, and I hope you will too." Rohitashv Gour, aka Manmohan Tiwari from &TV's Bhabiji Ghar Par Hai, shares, "Since the time plastic came into existence, it transformed the dynamics of the retail industry and found its place in everything from packaging to product design and retailing. Plastic is designed to last, but this is also a disadvantage as it takes a long time to disintegrate. A single plastic straw takes about 200 years to decompose! And we hardly realise this when we sip on beverages. Now, this should ring some bells. I am very conscious when it comes to disposing of plastic. For effective disposal, segregation plays a key role. Dividing waste into different categories can help to keep the environment clean. I keep the plastic separately from the wet and organic waste, and then I send the clean segregated plastic for recycling through rag pickers or recycling agencies. I would recommend everyone to adopt this easy method of plastic management as it can create a bigger impact in the future." Nehha Pendse, aka Anita Bhabi from &TV's Bhabiji Ghar Par Hai, shares, "Single-use plastic is the most dangerous kind of plastic. They may appear small and thin, but they harm the environment like nothing else. From chai cups to vegetable bags and covers, all these are made of single-use plastic. It has made its way to our regular life, for which we need to make conscious efforts to keep its usage under check. Replacement is the key to this issue. Replacing the plastic with biodegradable alternates can create a big change. From paper, cloth, jute to coconut leaves and bamboo, all these are readily available alternatives safe for the environment and our health. And I take immense pride as Maharashtra is one of the Indian states that has banned single-use plastic, which has inspired other states to take similar initiatives."
Watch Gracy Singh as Santoshi Maa on Santoshi Maa Sunaye Vrat Kathayein at 9:00 PM, Himani Shivpuri as Katori Amma on Happu Ki Ultan Paltan at 10:00 PM, Rohitashv Gour as Manmohan Tiwari and Nehha Pendse as Anita Bhabi on Bhabiji Ghar Par Hai at 10:30 PM only on &TV!